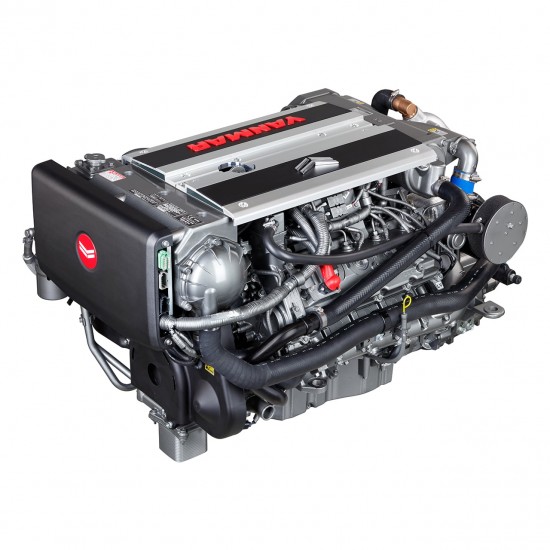 Yanmar 8JLV320 Marine diesel engine
Yanmar Inboard Diesel Engine 8LV320
*PRICES EX WORKS - ADDITIONAL CUSTOMS FEES AND DUTY MAY APPLY

YANMAR's 8LV is a compact power plant with an extremely efficient and versatile design. The V8 common rail configuration allows for a balanced and quite running engine with twin turbos to deliver faster acceleration response.
Featuring a broad speed range from 550 rpm idle to 3800 rpm max speed, the 8LV can be applied to fit many, differing application needs from low speed, easy maneuvering to high speed, responsive cruising. And with a large 180 amp alternator as standard, you can efficiently power added features, and do so easily with direct connectivity to all NMEA devices in this electrically controlled engine.
The best power-to-weight ratio in its class and compact size makes this engine ideal, whether for new builds or repowers alike.
Twin-turbos deliver high torque for superior acceleration and responsive control
Exceptional power range of 550 to 3,800 rpm enables easy maneuvering and high top-end speed
Compact design with an outstanding power-to-weight ratio
Large-capacity 180 amp alternator provides continuous high-power output
V8 common rail design delivers a smooth, quiet, clean and fuel-efficient performance
YANMAR ZT370 sterndrive available across the full 8LV series

AVAILABLE FOR PRE-ORDER


SPECIFICATIONS
Rated Output 235kW / 320 mhp
Rated Speed 3800 rpm
Displacement 4.46 L / 272 cu. in
No. of cylinders 8 cylinders
Cylinder Bore x Stroke 86 mm x 96 mm / 3.38 in x 3.78 in
Combustion system Direct Injection, Denso Common Rail System
Aspiration Turbocharged & Intercooled
Alternator Denso 12V - 180A
Dry weight without gear 435 kg / 959 lbs
Dimensions 1340 mm x880 mm x 766 mm
Controls Electronic
Certifications RCD 2 IMO Tier 2 EPA Tier 3 EPA Tier 3C BSO II EMC SOLAS USGC

NOTE:
1 kW = 1.3596 mhp = 1.34102 bhp
Fuel condition: density at 15°C = 0.842 g/cm³
Technical data is according to (ISO 8665) / (ISO 3046)
Fuel temperature 40°C at the inlet of the fuel injection pump (ISO 8665)
Length includes KMH50A marine gear
Measured with through drive exhaust, without sterndrive (1043mm x 886mm x 1198mm)
(Dimensions may vary with other gears/elbow)
DUE TO SIZE AND WEIGHT FREIGHT CHARGES APPLY, PLEASE CONTACT US FOR FREIGHT COST

Stock:

Pre-Order

Brand: Yanmar
Model:

8LV320