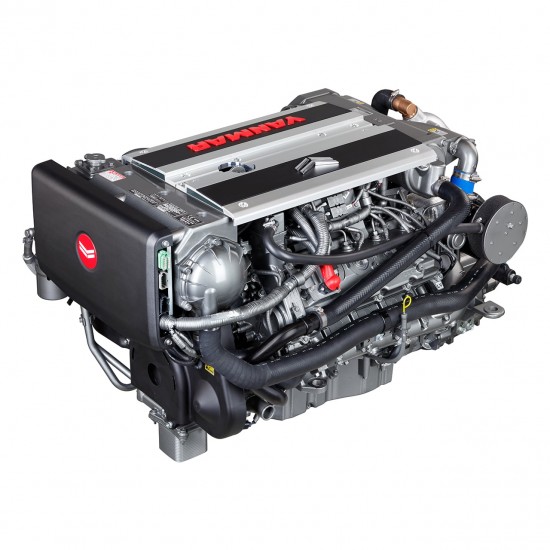 Yanmar 6LY440 Marine diesel engine
Yanmar Inboard Diesel Engine 6LY440
*PRICES EX WORKS - ADDITIONAL CUSTOMS FEES AND DUTY MAY APPLY

Built on 30 years of history, the 4th generation 6LY-CR is a smooth and robust 6 cylinder in-line engine, producing impressively clean and powerful performance.
Incorporating an advanced Denso common rail fuel injection system, the 6LY-CR delivers excellent fuel economy and significantly less noise than previous generations, while the high torque output throughout its full operating range produces class leading acceleration and responsive performance.
Its narrow and lightweight profile enables installation in the tightest of engine rooms, making it the perfect solution for repowering, as well as newly built vessels.
Compact, lightweight, and powerful engine
High torque on the low-end and over the power band, delivering leading acceleration and top end responsiveness
Custom YANMAR 6LY block is purpose-built for marine applications
4th generation reliability for proven performance with cruising, racing and light commercial applications
Designed for efficient installation and refitting
AVAILABLE FOR PRE-ORDER


SPECIFICATIONS
Rated Output 324kW / 440 mhp
Rated Speed 3300 rpm
Displacement 5.813 L / 354 cu. in
No. of cylinders 6 cylinders
Cylinder Bore x Stroke 106 mm x 110 mm / 4.17in x 4.33 in
Combustion system Direct Injection, Denso Common Rail System
Aspiration Turbocharged & Intercooled
Alternator Denso 12V - 125A
Dry weight without gear 585 kg / 1290 lbs
Dimensions 1440 mm x 748.5 mm x 773.8 mm
Controls Electronic
Certifications RCD 2 IMO Tier 2 EPA Tier 3 EPA Tier 3C BSO II EMC SOLAS USGC

NOTE:
1 kW = 1.3596 mhp = 1.34102 bhp
Fuel condition: density at 15°C = 0.842 g/cm³
Technical data is according to (ISO 8665) / (ISO 3046)
Fuel temperature 40°C at the inlet of the fuel injection pump (ISO 8665)
Length includes KMH61A-2 marine gear
(Dimensions may vary with other gears/elbow)
DUE TO SIZE AND WEIGHT FREIGHT CHARGES APPLY, PLEASE CONTACT US FOR FREIGHT COST

Stock:

Pre-Order

Brand: Yanmar
Model:

6LY440CRL