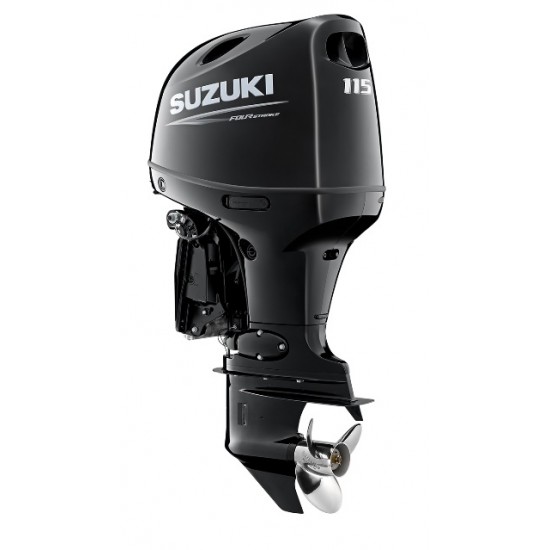 Suzuki DF115BGTL Outboard Long Shaft *NEW
**PLEASE CONTACT US ON 066 7124524 FOR ENGINE ORDERS & AVAILABILITY INFORMATION**
The NEW Suzuki DF115B is perfect for all kinds of freshwater boats, inshore boats and even offshore fishing boats. Bottom line, you won't find more power, more advanced technology or a more compact package anywhere.


**Please note, we do advise to telephone before ordering engines to ensure availability**
Features
Suzuki Selective Rotation: Selective rotation offers a more robust gearing in the lower unit enabling the prop to rotate in both directions.
Suzuki Precision Control: This technologically advanced system gives smooth, precise control with crisp, immediate shifting particularly at low revs when manoeuvring and helps improve fuel efficiency.
Suzuki keyless start system: Designed with convenience in mind this system offers simple, stress-free starting and acts as an immobiliser to help deter theft.
Variable Valve Timing (VVT): The system is controlled by hydraulic pressure from the oil pump and the process happens automatically so all you have to do is enjoy the power and performance.
Lean Burn control system: Suzuki's Lean Burn Fuel Control Technology predicts fuel needs according to operating conditions, then delivers the optimum fuel/air mixture to the engine resulting in greater fuel economy.
Largest reduction gear ratio in its class: A large reduction gear ratio leads to powerful torque for quick acceleration and great top-end speed.
Multi-stage induction: Multi-stage induction enhances the engines performance by allowing the right amount of air into cylinder resulting in higher power output during high speed operation.
Multi-Function Gauge: This intuitive technology allows you to view important information from engine rpm and trim to boat speed and fuel economy, all on one user friendly screen.Watergrip Propeller: A stainless steel propeller with a new interchangeable square shaped bush that offers efficient conversion of engine power to propulsion resulting in better grip and performance for our powerful outboards.
Specifications
Starting System: Electric
Engine Type: DOHC 16-Valve
Fuel Delivery System: Multi-Point Sequential Electronic Fuel Injection
No. of Cylinders: 4
Piston Displacement: 2045cc
Maximum Output: 84.6KW
Full Throttle Operating Range: 5,500 - 6,000
Steering: Remote
Oil Pan Capacity: 5.5L
Ignition System: Fully-transistorised
Alternator: 12V 40A
Engine Mounting: Shear Mount
Trim Method: Power Trim & Tilt
Gear Ratio: 2.59:1
Gear Shift: F-N-R (Drive-by-Wire)
Exhaust: Through Prop Hub Exhaust
Dimensions & Weight
Recommended transom height: L: 511mm (20in) X: 638mm (25in)
Weight: L: 187.0kg X: 189.0kg
Bore x Stroke: 86 x 88mm
Propeller Selection (pitch): 15"-25"(RR), 17"-23"(CR)
What's in the Box
With the DF115BG we include the following:
- Safety lanyard
- User manual
- Choice of stainless steel propeller
- 5 year leisure warranty / 2 year commercial warranty
- Choice of electronic drive-by-wire control box
- Trim gauge
- Tacho and monitor gauge
- Suzuki Multi-Function Gauge
- Flexible rigging kit
- Suzuki Keyless Start Immobiliser System
Due to size and weight we are unable to ship this engine free of charge, please contact us for freight cost.

Stock:

Pre-Order

Brand: Suzuki
Model:

DF115BGTL