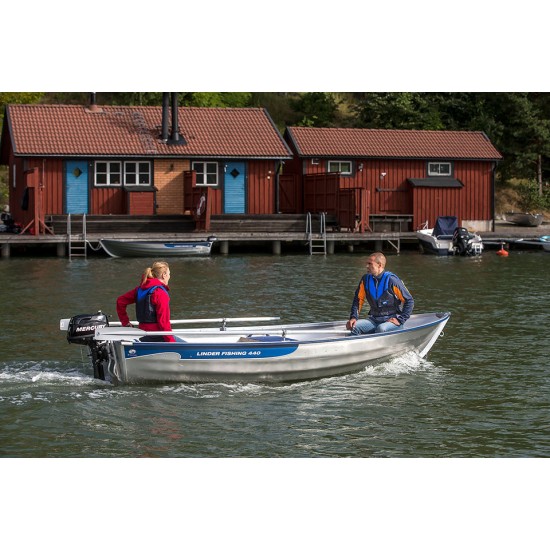 Linder Fishing 440, including 9' Oars
Linder Fishing 440, including 9' Oars

A light but stable clinker-built boat for the whole family. Suitable for lakes, rivers and sheltered coastal waters, the craft is easily rowed or powered by outboard motors up to 5hp or E-Drives. Stowage space in the stern and middle seats and oars and rowlocks supplied as standard. The Fishing 440 has the market's lowest petrol consumption – 0.11 litres per sea mile with one person at seven knots and thus is an environment friendlier choice of boat. Made in high-quality corrosion-resistant aluminium corresponding to that used in aircraft.
Unsinkable and floats even when waterlogged and carrying 4 people. 3-year guarantee. Approved bow eye (insurance class 3). Security marked with micro dots (Securmark*).
Specifications:
Length: 431 cm
Width: 164 cm
Weight: 94 kg
Hull depth: 60 cm
Rec. motor: 2-5 hp (1.46-3.07 kW)
Shaft length: Short
Max. load: 400 kg
Max. no. people: 4
Hull thickness: 1.7 mm
CE marked for category D: Sheltered waters
This item is available to purchase & collect ex works or alternatively can be shipped to you via specialist courier. Please contact us via email for a shipping quote.​
Stock:

Pre-Order

Brand: Linder
Model:

linder fishing 440

Weight:

94.00kg

Dimensions:

431.00cm x 164.00cm x 60.00cm

SKU:

Ln15440