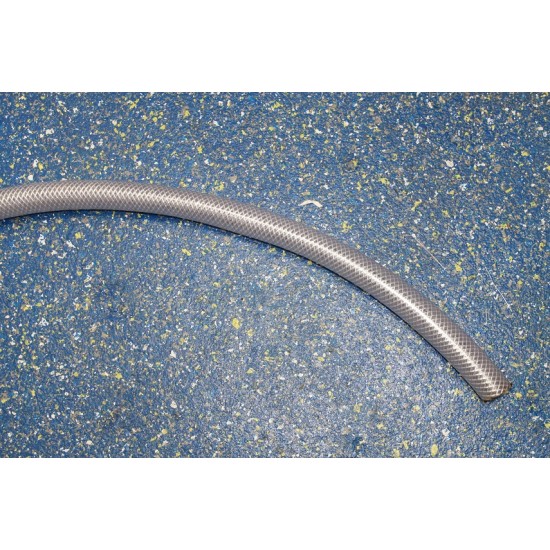 Clear PVC hose with polyester fibre reinforcing 19mm to 38mm
When choosing a water hose for your bilge pump or bailer pump, it is important to take into consideration the route your hose will take along your boat.
If your hose needs to bend around obstacles, then it may be likely to get kinked and therefore restrict waterflow.

All our hoses are reinforced to alleviate kinking when rolled correctly however, both types have different characteristics.
Polyester fiber reinforcing hoses, while more flexible to handle, tend to kink if bent sharply. Therefore are ideal for applications where the hose is not required to go around any sharp bends.
Wire reinforced hoses have a more rigid construction, yet can be bent much tighter without kinking.

The following table gives an approximate guide to the minimum radius each hose may be bent to before kinking.
Tests were carried out in temperatures of 15 degrees Celsius.
Minimum bend radius of Reinforced PVC hose
| | | |
| --- | --- | --- |
| Hose Dia. mm | Polyester Fiber Reinforced Hose | Wire Reinforced Hose |
| 18mm | 150mm | 30mm |
| 25mm | 150mm | 40mm |
| 30mm | 175mm | 50mm |
| 32mm | 190mm | 55mm |
| 38mm | 225mm | 70mm |
| 50mm | 300mm | 90mm |


Prices are in meters

Stock:

In Stock

Model:

PVC fibre