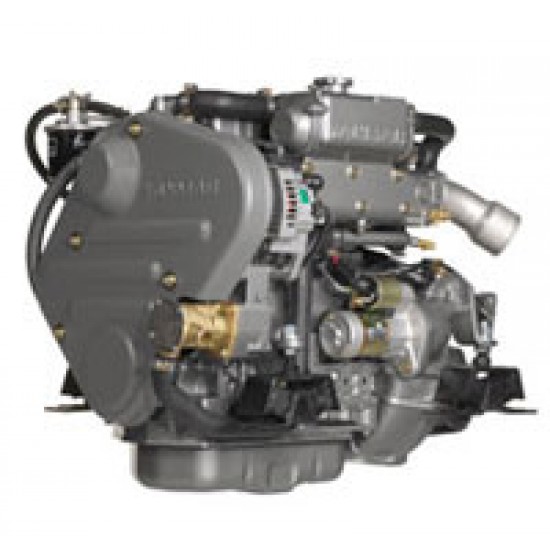 Yanmar 3JH40 Marine diesel engine
Yanmar 3JH40 Marine diesel engine
*PRICES EX WORKS - ADDITIONAL CUSTOMS FEES AND DUTY MAY APPLY
Yanmar introduces the 3JH40 as the world's smallest common rail inboard marine diesel engine in displacement, dimensions and weight. The 3-cylinder 3JH40, with an output of 40 mhp, will enable a whole new category of smaller leisure boat owners and commercial vessel operators to benefit for the first time from the efficiency and performance advantages associated with the most recent electronically-managed CR fuel-injection technology.
With an output of 40 MHP @ 3000 rpm (29.4 kW @ 3000 rpm), the 3JH40 is the smallest common rail inboard marine diesel in:
Displacement, with only 3 cylinders measuring 1.642 L (100 cu in)

Physical size, measuring 774 x 580 x 632mm
Weight, measuring 192kg without gear


Through common rail technology, the 3JH40 offers minimal fuel consumption and exceptionally low noise and emission levels, exceeding EPA Tier 3 and EU RCD Tier 2 emission regulations for virtually smoke and odor-free operation.
The 4-stroke, water-cooled 3JH40 is an ideal solution for new builds and repowering applications, specifically monohull sailing yachts and catamarans up to 45ft, small motor boats or sloops, and light duty commercial craft.


MODELS
3JH 40HP COMMON RAIL KM35PS 2.3:1 Code 3JH40CR23
3JH 40HP COMMON RAIL KM35PG 2.62:1 Code 3JH40CR26
3JH 40HP COMMON RAIL KM35AS 2.3:1 Code 3JH40CR23A
3JH 40HP COMMON RAIL KM35AG 2.62:1 Code 3JH40CR26A
3JH 40HP COMMON RAIL SAILDRIVE Code 3JH40CRSD
3JH 40HP COMMON RAIL BOBTAIL Code 3JH40CRM<


ALL MODELS AVAILABLE FOR PRE-ORDER

SPECIFICATIONS
Configuration 4-stroke, vertical, water-cooled diesel engine
Maximum output at crankshaft* 29.4 kW@3000 rpm [40 mhp@3000 rpm]
Displacement 1.642 L [100 cu in]
Bore x stroke 88 mm x 90 mm [3.46 in x 3.45 in]
Cylinders 3 in-line
Combustion system Direct injection with Bosch common rail system
Low idle rpm 800 rpm
Aspiration Naturally aspirated
Starting sytem Electric starting 12V – 1.4 kW
Alternator Valeo 12V - 125A
Cooling system Fresh water cooling by centrifugal fresh water pump
Seawater cooling by rubber impeller seawater pump
Lubrication system Enclosed, forced lubricating system
Direction of rotation [crankshaft] Counterclockwise viewed from stern
Dry weight without gear** 192 kg [423lbs]
Emission compliance EU: RCD 2, BSO II, EMC US: EPA Tier
Engine mounting Rubber type flexible mounting
NOTE:
Fuel condition: Density at 15°C = 0.84 g/cm3: 1 kW = 1.3596 mhp = 1.3410 HP
* Fuel temperature 40°C at the inlet of the fuel injection pump [ISO 8665: 2006]
** Including damper disk
Technical data is according to ISO 8665: 2006

DUE TO SIZE AND WEIGHT, FREIGHT CHARGES APPLY, PLEASE CONTACT US FOR FREIGHT COST
Stock:

Pre-Order

Brand: Yanmar
Model:

3JH40