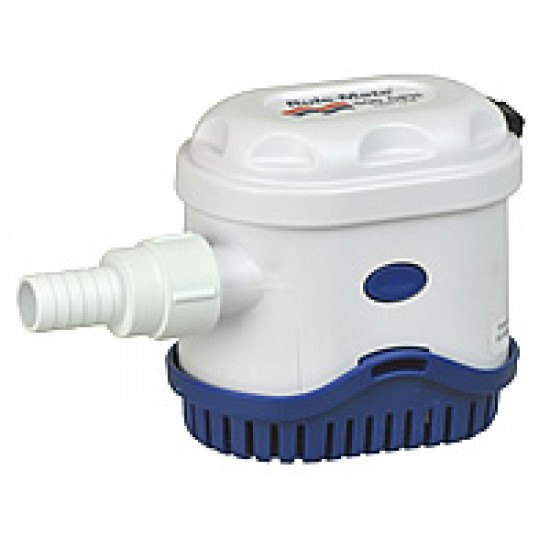 Rule Mate 800 12v bilge Pump - New Type (CE Approved)
Rule Mate 12v Bilge Pump 800gph
The eco-friendly Rule Mate series of bilge pumps feature a solid state water sensing technology that eliminates the need for a separate float switch.

When water enters the bilge and reaches a certain height (2-3/4 inches) a sensor turns the pump on. After the water is pumped out, another sensor shuts the pump off.

The sensor's unique "field effect" technology will only recognize water. If motor oil is present in the bilge, the sensor will not turn the pump on. The result is the most technically advanced and eco-friendly bilge pump available in the marketplace. It's part of Rule's continuing commitment to preserving our navigable waterways.

Connections: For 19mm (3/4") bore hose.
Dimensions: 114mm high, 152mm long, 83mm wide..
Fuse Size: 1.5 amp
Output: Up to 28 litres/minute (6 gallons/minute). Max. recommended discharge head 2m.

- Fully automated bilge pump with integral float switch.
- Compact pump for smaller vessels.
- Tough plastic body.
- Quick release inlet strainer allows rapid cleaning.
- Low amp draw conserves batteries.
- Ignition protected.
Stock:

Out Of Stock

Brand: Rule
Model:

55001/MTB