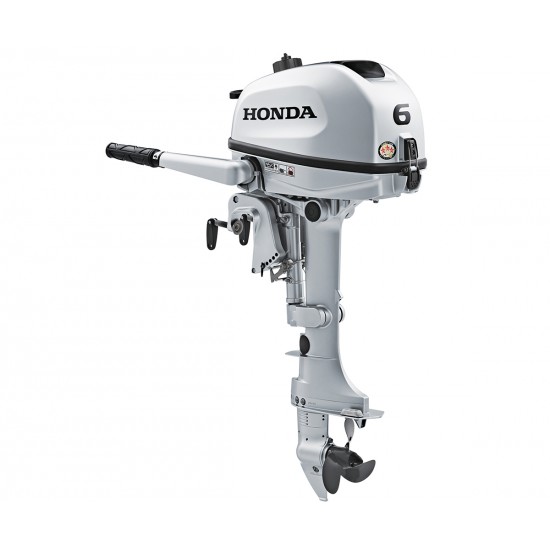 Honda BF6 LHU
BF6 Short Shaft
The BF6 SHU has been refined, re-engineered and comprehensively tested to ensure the highest possible levels of reliability, performance, comfort and enjoyment.
Portable range - Not only are the new BF engines among the lightest in their class, but they also have an ergonomically designed handle to make them easy to carry. The Tiller handle can also be folded to make them as compact as possible to aid storage.
Performance - The new range packs a punch with a 127 cm³ engine that not only provides efficient acceleration but still supplies high levels of torque. Several propeller options are available to fit perfectly with your needs. If you are looking for an easy start engine, you will be really pleased with the new Honda decompression mechanism, anyone can start these outboards with the minimum of effort.
Comfort - The new engines gather all our experience to make sure you have the most comfortable ride. What's more, they have very low vibration, low noise and high reliability.
Improving the quality of our own lives means nothing if we don't consider the living things around us first. And when it comes to the marine environment, there's simply no excuse for allowing fuel from boats to pollute our oceans and waterways.
The Honda way
Soichiro Honda had a simple idea to make outboard engines cleaner, quieter and friendlier towards aquatic life – he made them 4-stroke. It was a solution that made Honda pioneers in marine engine technology, but more importantly, it made us more responsible towards this fragile environmental resource

Stock:

2-3 Days

Brand: Honda
Model:

Honda BF6 LHU