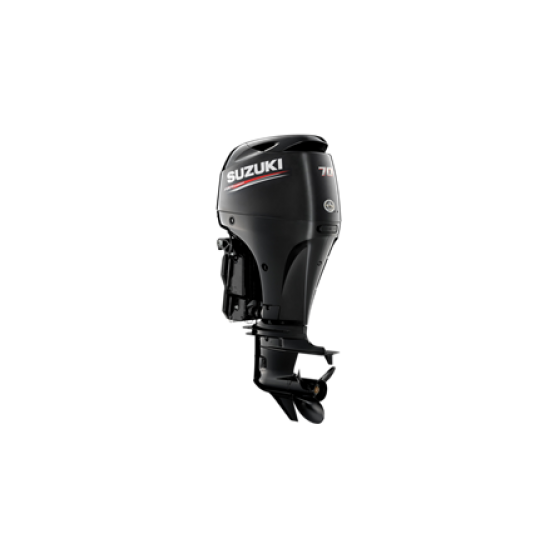 Suzuki DF80ATL Outboard Long Shaft
Long shaft: 508mm

**Please note, we do advise to telephone before ordering engines to ensure availability**
Features
Lean Burn control system- Suzuki's Lean Burn Fuel Control Technology predicts fuel needs according to operating conditions, then delivers the optimum fuel/air mixture to the engine resulting in greater fuel economy.
Offset drive shaft -The offset drive allows us to make our outboard engines smaller by moving the outboards centre of gravity forward, improving weight distribution, power output, balance and reduces vibration.
Self-adjusting timing chain -Simple, effective and maintenance free timing chain that runs in an oil-bath so it never needs lubricating and equipped with a hydraulic tensioner so it remains properly adjusted at all times.
Suzuki keyless start system - Designed with convenience in mind this system offers simple, stress-free starting and acts as an immobiliser to help deter theft.
Tilt limit system - Protects the boat from damage when tilting the outboard, acting as both a tilt limit and trim sender, the step-free, continuous system allows you to install the outboard on almost any boat.
Specifications:
Starting System: Electric
Engine Type: DOHC 16 valve
No. of Cylinders: 4
Piston Displacement: 1502cc
Maximum Output: 58.8KW
Full Throttle Operating Range: 5,000 - 6,000
Steering: Remote
Oil Pan Capacity: 4.0L
Fuel Tank Capacity: 25L
Ignition System: Fully-transistorised
Alternator: 12V 27A
Trim Method: Power Trim and Tilt
Gear Ratio: 2.59:1
Gear Shift: F-N-R
Exhaust: Through Prop Hub Exhaust

Dimensions and Weight:
Recommended transom height: 510mm (20.08in)
Weight: 156.0Kg
Bore x Stroke: 75 x 85mm
Propeller Selection (pitch): 13" - 25"
What's in the box?
With the DF80A we include the following as standard:
- Kill cord
- White trim gauge*
- Tacho and monitor gauge*
- Choice of control box
- Choice of aluminium propeller
- Wiring harness
- Suzuki Keyless Start System
- 5 year leisure warranty / 2 year warranty
* Upgrade to Suzuki Multi-Function Gauge available, please ask for more information.
Due to size and weight we are unable to ship this engine free of charge, please contact us for freight cost.

Stock:

Pre-Order

Brand: Suzuki
Model:

DF80ATL