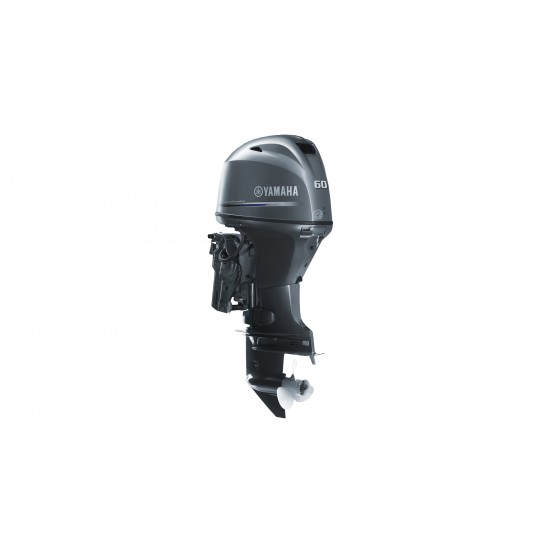 Yamaha 60HP F60FETL, Long Shaft, Remote Control, Electric Start, Power Trim & Tilt
**PLEASE CONTACT US ON 066 7124524 FOR ENGINE ORDERS & AVAILABILITY INFORMATION**
Yamaha 60HP Four Stroke, Remote Control, Electric Start, Power Trim & Tilt, 114kg
Maximum enjoyment minimum emissions
Ideal for towing skiers or wakeboarders, the compact F60 and F50 let you have fun on the water with a clear conscience – they're the cleanest and most economical engines in their class.
Yamaha's Electronic Fuel Injection system (EFI) ensures cleaner performance and efficient consumption of fuel, all in an engine that delivers impressive power, serious torque in the mid-ranges and high top speeds.
The F60 and F50 also include a number of unique Yamaha features, each designed to provide a smooth, comfortable and enjoyable ride. Among them are the Wide Range Power Trim & Tilt system, giving you full, relaxed control –and PrimeStart™ ignition – as effortless as starting a car.
Engine Specifications
Engine type: 4-stroke
Displacement: 996 cm³
No. of cylinders/configuration: 4/In-line, SOHC
Bore x stroke: 65.0 mm x 75.0 mm
Prop shaft output at mid range: 44.1kW / 5,500 rpm
Full throttle operating range: 5,000 - 6,000 rpm
Lubrication system: Wet sump
Fuel Induction System: EFI
Ignition / advance system: TCI
Starter system: Electric with prime start™
Gear ratio: 1.85 (24/13)
Dimensions
Recommended boat transom height: L: 527mm
Weight with propeller: F60FETL: 114 kg
Fuel tank capacity: separate, 25 litres
Oil pan capacity: 2.1 litres
Additional features
Control: Remote control
Trim & tilt method: Power trim & tilt
Lighting Coil / Alternator: 12V - 16A with rectifier/regulator
Tilt limitter: Optional
Engine immobiliser: YCOP Optional
Propeller: Optional
Counter Rotation Model: N/A
Shallow Water Drive: Standard
Digital Network Gauge II (LCD Color): N/A
Digital Network Gauge (Round/Square): Optional
Variable Trolling RPM: With DN Gauges or m-f tiller handle
Dual Battery Charging System: N/A
Shift Dampener System (SDS): N/A
Due to size and weight, we are unable to ship engines free of charge, freight charges apply and vary depending on engine size, please contact us for delivery costs
Stock:

Pre-Order

Brand: Yamaha
Model:

F60FETL

Weight:

114.00kg