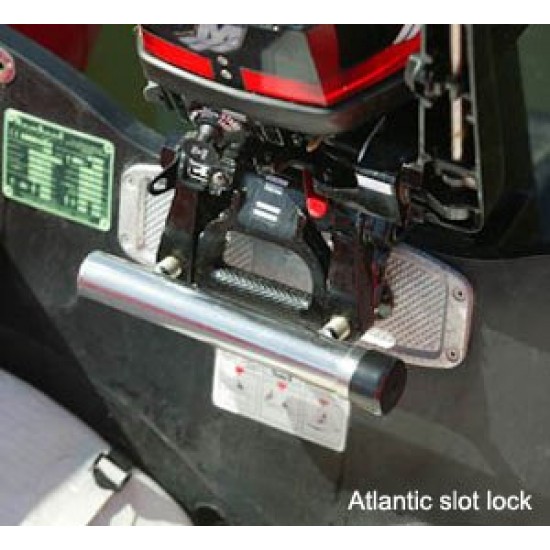 Hot


Outboard Engine Lock, MotorLoc Atlantic 195 INSURANCE RECOGNISED
Outboard motor lock. MotorLoc Atlantic 195 Slot Lock - Insurance Recognised
Design specifically for smaller, clamp-mounted outboard engines
The original solution for locking outboard motors or engines to a boat's transom to prevent outboard motor theft. These are for use where an outboard engine is attached using the engine's clamping bracket. Your outboard is valuable and vulnerable. No outboard is insured unless it is locked on with an insurance recognised lock.

The slot in the lock covers the two clamp heads making it nearly impossible for a potential thief to get access to them.
For engines:
HONDA: Hand start, tiller only 5hp, 8hp, 10hp, 15hp and 20hp.
MARINER, MERCURY: 20hp
TOHATSU, NISSAN: 4hp, 5hp, 6hp.
SUZUKI, JOHNSON: 4hp, 5hp, 6hp, 9.9hp and 15hp. (Please note that the Suzuki 9.9hp, 15hp and 20hp A Models require an Atlantic Slot Lock (230mm) as the distance is 165mm across the handles. If in doubt, please download the pdf on how to measure)
YAMAHA, SELVA: 6hp, 8hp, 9.9hp, 15hp, 20hp

Choosing the right Slot Lock
If you are unsure as to which Slot Lock you require then please measure across the width of your toggles once aligned up straight:
If less than 150mm then an Atlantic 170 is required
If less than 160mm then an Atlantic 195 is required
If over 160mm then an Atlantic 230 is required
If over 190mm then an Atlantic 260 is required

A high security locking head (HSH) is supplied as is a black dust cap and a rubber liner.

Stock:

Out Of Stock

Brand: MotorLoc
Model:

Atlantic195