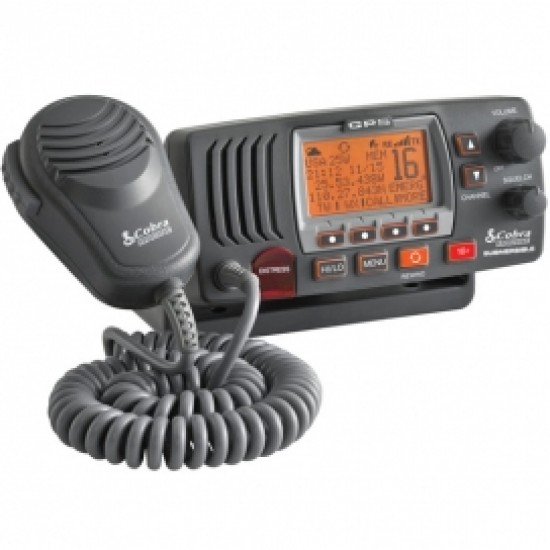 Cobra F77 Fixed VHF Marine Radio
The Cobra MR F77 is a truly unique VHF radio with its large LCD display and an integrated GPS receiver making the radio ready out of the box to be a complete life saving solution. If a user sends a vessel Distress, their EXACT position will be sent to the rescue authorities.

The selectable 1 or 25 Watt output is perfect for short range or long range communication.
Included is Cobra's exclusive Rewind-Say-Again® digital voice recorder, 4 softkeys positioned at the bottom of the LCD to allow the user to easily activate and navigate through menus. NOAA Weather Radio, Weather Alert, providing 24 hour access to audio broadcasts and Emergency Alerts to keep boaters safe and informed, IPX8/JIS8 Submersible, Instant channel 16/9, Scan, PA (Public Address) speaker output, External speaker output, Illuminated LCD, Signal strength meter (for radio receiver and GPS receiver), etc. Compliant with the latest FCC specifications for Class-D VHF radios.
WITH BUILT IN GPS RECEIVER! Simply connect the 12V (red and black) wires and enter their MMSI for full setup and immediate operation

SPECIFICATIONS:
DSC (DIGITAL SELECTIVE CALLING): Compliant with the latest specifications for Class-D VHF Radios. Digital Selective Calling allows you to send a distress signal at the touch of a button or exchange position information with other boats or stations. DSC features on this Class-D radio include; A Dedicated Channel 70 (DSC Channel) Receiver, GPS Position Display Capability, Illuminated Distress Button, Easy MMSI Entry, Position Send and Request, Position Input Reminder, Coast Guard DSC Check Capability, etc 1 OR 25 WATTS Dual output power for short and long communication.
INTERNATIONAL, U.S.A., & CANADA CHANNELS Allows operation on any of the three (3) different channel maps established for these areas.
REWIND-SAY-AGAIN¨ Replay missed calls. Automatically records the last 20 seconds of incoming radio transmissions. Handy when in noisy conditions.
RADIO CHECK Checks battery voltage when transmitting, RF power output, and antenna output.
INSTANT CHANNEL 16 Instant access to channel 16 for emergency situations.
GPS Inside Simply connect the radio to power and the radio will know your location. You can send your position information in case of emergency, or exchange position information with other boats.
DUAL WATCH Monitors two (2) channels at once - Channel 16 and one (1) user selected channel.
SCAN / MEMORY SCAN Scan all channels to find conversations in progress, or scan channels placed into memory.
CHANNEL NAMES Friendly VHF channel names under the channel number.
SIGNAL STRENGTH METER Shows the strength of incoming signal.
ILLUMINATED KEYS Allows high visibility of keys.
ILLUMINATED LCD DISPLAY: Super Large See radio settings from practically anywhere with the largest LCD available on a fixed radio.
NOISE CANCELLING MICROPHONE Blocks background noise. External Speaker and PA Speaker Connect an external speaker and a PA (Public Address) speaker.
NMEA IN AND OUT NMEA in for GPS input. NMEA output to display other vessels and their information transmitted by DSC on your chart plotter.
SUBMERSIBLE Meets JIS8/IPX8 standards; Submersible for 30 minutes in 1.5 meter deep water.
EXTERNAL ALARM INPUT Senses the alarm from your chart plotter and uses the speaker on the radio to amplify the alarm for way point arrival, MOB, etc.
ATIS Capable of operating within the Automatic Transponder Identification System. ATIS includes data at the end of a transmission for station identification.

GPS SPECIFICATIONS
RECEIVER 56 channels
ACQUISITION TIMES:
HOT NOMINAL: < 1 second, Limit: +/- 5 seconds
WARM NOMINAL: < 33 second, Limit: +/- 5 seconds
COLD NOMINAL: < 35 second, Limit: +/- 10 seconds
UPDATE RATE Up to 5 Hz
ANTENNA TYPE Internal patch antenna
GPS RECEIVER FIRST LOCK SENSITIVITY NOMINAL: -144dBm, Limit: 142dBm
GPS RECEIVER TRACKING SENSITIVITY NOMINAL: -160dBm, Limit: 155dBm
DIFFERENTIAL SYSTEM COMPATIBILITY EGNOS (Europe) WAAS (United States) MSAS (Japan) GAGAN (India)

NMEA INFO:
OUTPUT SPECIFICATION NMEA 0183- ASCII serial output
SELECTRICAL STANDARD EIA-422
NMEA SENTENCES DTM, GGA, GLL, GRS, GSA, GSV, RMC, VTG

GENERAL SPECIFICATION:
MODULATION 5 kHz MAX.
INPUT VOLTAGE 13.8 VDC
CURRENT DRAIN: Stand-by 200 mA / Receive 300 mA
TRANSMIT 5 A @ High Power // 1 A @ Low Power
TEMPERATURE RANGE -20ºC to 60ºC
UNIT DIMENSIONS 159 mm x 57 mm x 180 mm
UNIT WEIGHT 1100 g

INCLUDED ACCESSORIES: Flush Mount Kit & Surface Mount Kit - E

Stock:

Pre-Order

Brand: Cobra
Model:

MR-F77EU

Weight:

2.04kg