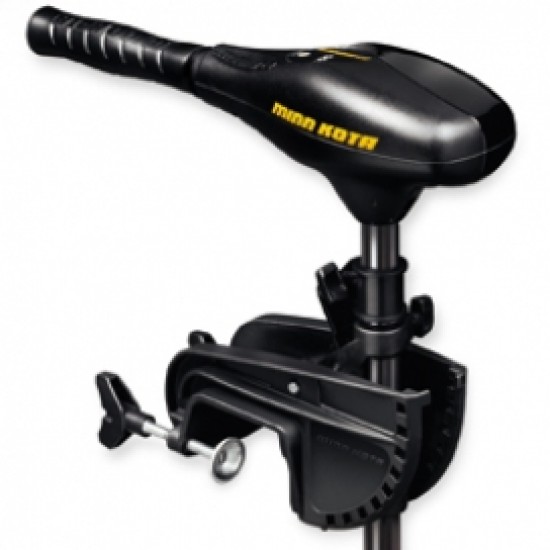 Minn Kota ENDURA C2 45lb Thrust 12V 36" Shaft w/ Battery Meter
Control: Telescoping Handle
Volts: 12
Max Thrust: 45 lbs.
Shaft Length: 36"
Speed Control: 5 Fwd/3 Rev
Max. Amp Draw: 42
Prop: Power Prop (MKP-2)
ENDURA C2 Standard Features:
Telescoping Handle
Six-inch telescoping handle providescomfortable, easy steering.
Lever-Lock Bracket
10-position bracket features aquick-release lever lock and reinforced composite material that resistsflexing, warping and UV damage.
5 Fwd/3 Rev
Provides five forward speed settings& three reverse speed settings to easily choose the speed you need forsimple, intuitive control that puts you in command.
Power Prop
The Power Prop delivers extra power tohelp you push through heavy vegetation to get you where the fish are.
PLUS…
Indestructible Composite Shaft: Pound for pound, our composite shaft isstronger than steel. It flexes on impact and won't break, kink or corrode.That's why we're confident enough to guarantee it for life. If we couldguarantee it for longer than a lifetime, we would.
Cool, Quiet, Power: Nothing runs cooler or more quietly thana Minn Kota. Our extra large windings and commutators dissipate heat, resultingin cooler operation, extended battery power, and longer motor life. And ourunique bearing system reduces friction to cut fish-spooking noise. So quiet,they'll never hear you coming.
2-Year Warranty:
This motor is backed up with MinnKota's two-year warranty.
Due to size and weight, we are unable to ship engines free of charge, freight charges apply and vary depending on engine size
Stock:

In Stock

Brand: Minn Kota
Model:

1352273m