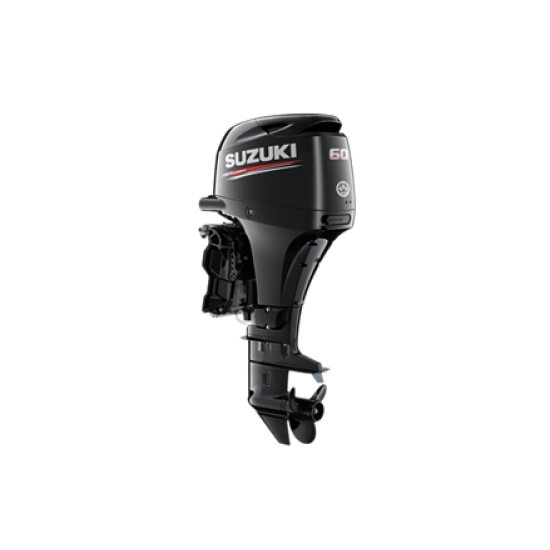 Suzuki DF60ATL Outboard Long shaft, Electric Start, Remote Steer, Power Tilt & Trim
Engineered to deliver fuel-efficient operation in a compact and light weight design, the DF60A utilizes many of the advancements that Suzuki has pioneered over the last decade. This three-cylinder engine with a four valve DOHC design is combined with Suzuki's Lean Burn Control System to deliver high-tech performance with efficient operation and top level fuel economy.
**Please note, we do advise to telephone before ordering engines to ensure availability**
New DF60A models also sport the optional Suzuki Troll Mode System.
Long shaft: 580mm

Features
Multi Point Sequential Electronic Fuel Injection
Suzuki Lean burn Control System
Suzuki Troll Mode System
Direct Ignition
Suzuki Easy Start System
Over-Rev. Limiter
Low Oil Pressure Caution
Fully Transistorized Ignition
Timing Chain
Fresh Water Flushing System
Power Trim and Tilt
Tilt Limit
Suzuki Anti-Corrosion System

Specifications:
Starting System: Electric
Engine Type: DOHC 12-Valve
Fuel Delivery System: Multi-Point Sequential Electronic Fuel Injection
No. of Cylinders: 3
Piston Displacement: 941cc
Maximum Output: 44.1KW
Full Throttle Operating Range: 5,300 - 6,300
Steering: Remote
Oil Pan Capacity: 2.7L
Ignition System: Fully-transistorised
Alternator: 12V 19A
Engine Mounting: Shear Mount
Trim Method: Power Trim and Tilt
Gear Ratio: 2.42:1
Gear Shift: F-N-R
Exhaust: Through Prop Hub Exhaust
Fuel Tank Capacity: 25L (optional)

Dimensions and Weight:
Recommended transom height: L: 508mm (20in) X: 635mm (25in)
Weight: ATL:104Kg ATX:107kg AVTL:115kg
Bore x Stroke: 72.5 x 76.0mm
Propeller Selection (pitch): 9" - 17"

What's in the box?
With the DF60A we include the following as standard:
- Kill cord
- White trim gauge
- Tacho and monitor gauge
- Remote steering with side mount control box
- Aluminium propeller
- Free flexible rigging kit
- 5 year leisure warranty / 2 year commercial warranty

Due to size and weight we are unable to ship this engine free of charge, please contact us for freight cost.

Stock:

Pre-Order

Brand: Suzuki
Model:

DF60ATL