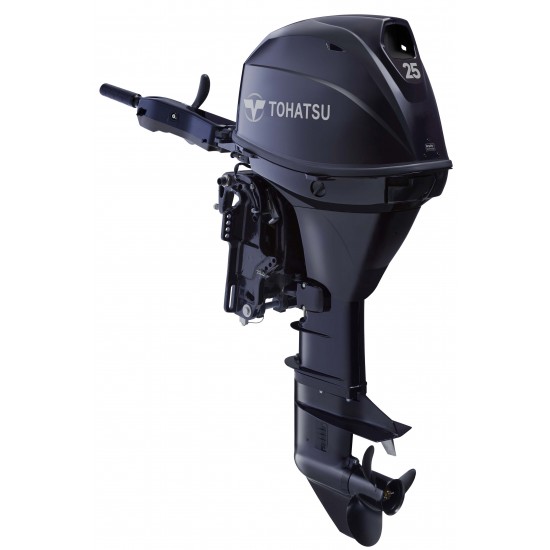 Tohatsu 25HP Manual Start, Tiller steer, Long Shaft
**PLEASE CONTACT US ON 066 7124524 FOR ENGINE ORDERS & AVAILABILITY INFORMATION**
Tohatsu 25HP Outboard, Manual Start, Tiller steer, Long Shaft / Transom 20"

Images may not depict exact model of engine
With all of the features you need to make the most of your motor on the water, this engine with electronic fuel injection gives what it promises: powerful performance and exceptional fuel economy. This 25 hp 4-stroke has become another top seller.
FEATURES
Multi-Function Tiller Handle is available on select models:The multi-function tiller handle features an ergonomically designed shift lever for easy and convenient shifting as well as a longer throttle grip with 110 degrees rotation for easier maneuverability. All controls on the new multi-function tiller are conveniently located on the handle for easy access and control. More specifically, the gear shift, throttle control, trim switch, safety lanyard cord, TLDI® warning lights, and electric start key switch are all integrated in the tiller handle.
Engine Control Unit (ECU): The 16 bit ECU precisely controls the fuel injection and ignition timing for 4-stroke engines.
Battery-Less Electronic Fuel Injection: The 30hp and 25hp now have the industry's first battery-less electronically controlled fuel injection that provides quick throttle response, excellent fuel economy, and very smooth rides on the water.
Tuned Intake Manifold: The tuned intake manifold provides increased low & mid speed torque and quieter operation.
Tubular Air-Intake: The tubular structure of the air-intake, originally developed by Tohatsu, helps to take in necessary airflow to the engine while preventing water from entering into the motor cover.
Built-in freshwater flushing system: Standard built-in freshwater flushing system simplifies routine engine flushing.
SPECIFICATIONS
Engine 4 Stroke 3 Cylinder
Output 25 ps (18.4 kw)
Displacement 526 cc (32.09 cu.in.)
Bore x Stroke 61 x 60 mm (2.4 x 2.36 in)
Starting Electric or Manual
Control Type Remote Control or Tiller Handle
Gear Shift Forward - Neutral - Reverse
Gear Ratio 2.17:1 (12:26)
Propeller Selection Range 8" - 14"
Transom Height S:15", L:20"
Fuel Unleaded Gasoline (87 Octane)
Oil Type NMMA Certified FC-W® 4-stroke oil** SAE 10W-30/40 (SF, SG, SH, SJ)
Oil Capacity 1.8L (2 qt.)
Fuel Tank 25 L (6.6 US Gal.) Separate Fuel Tank
Weight* 71.5 kg (158 lbs.)
Alternator Output 12V, 180W, 15A
Max. RPM Range 5,000 - 6,000
Electronic Fuel Injection Standard
Digital CD Ignition System Standard
Start In Gear Protection Standard
Thermostat Controlled Cooling System Standard
Through-The-Prop Exhaust Standard
Power Trim and Tilt Option
Oil Pressure Warning Standard
Shallow Water Drive Option

Warning and protection:
Overheat warning (audible)
Low oil pressure warning (audible)
Safety lanyard (an essential protection feature standard on all Tohatsu outboards)
Start-in-gear protection for safer engine starting
Over-rev. Limiter


Due to size and weight, we are unable to ship engines free of charge, freight charges apply and vary depending on engine size
Stock:

Pre-Order

Brand: Tohatsu
Model:

MFS25D L