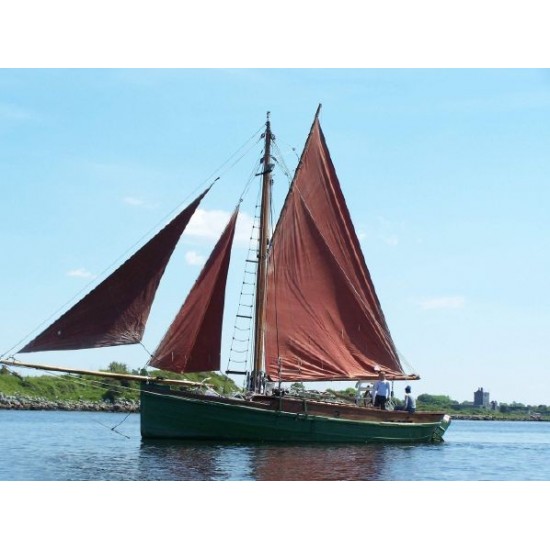 44' gaff Cutter
• Year: 1926
• Current Price: EUR 31,000
• Located in Ireland
• Hull Material: Wood
• Engine/Fuel Type: Single diesel


Fairy Queen – In the beginning...
James Robertson of Campbeltown, grew up working on his Uncle Dugald's 25ft Lochfyne Skiff, "Fairy Queen" which was made by Boyd of Ardrossan in 1885. By 1919 he was in charge of his uncle's skiff. In 1926 James decided to have his own built, larger at 44ft, and named her after this very boat. According to a family story, James's wife came into some inheritance and wanted to buy a guesthouse with the money, but James wanted a boat, so a boat it was!

The design of FAIRY QUEEN was influened by local working boats already in use such as the Lochfyne skiff and the Zulu. On the East Coast of Scotland the "Zulu" became popular with the drift-net fishermen. It was named after the Zulu Wars between the British Empire and South Africa which began in 1879. The Zulu was itself a hybrid of two local types of boat: the "scaffie" with its raking sternpost; and the "fifie" with its upright stem.

FAIRY QUEEN is known as a "half Zulu" due to her being rigged like Zulus built at this time.

FAIRY QUEEN's hull is more like a giant Lochfyne Skiff. At 44ft she is a good bit larger than the traditional skiff which ranged from 22-25ft. Her entry at the fore is also not as upright as the Zulu.

FAIRY QUEEN was made by Wilson Noble of Fraserburgh in 1926. Wilson's father, Alexander, was a very ambitious man and begun his own boat repair business in Fraserburgh. Due to his success and reputation he was chosen by two local fisherman to commission a couple of 70ft "Fifies." These he turned out to a very high standard and from there his order book took off, so much so that he soon brought in two of his sons to help. They produced another four 70ft Fifies before eventually in 1907 they made their first local steam drifter. By then Wilson had taken over the business from his father. Soon after, they were fitting new boats with Kelvin engines, manufactured by Walter Bergius of Glasgow. The prop shaft on the Lochfyne Skiffs were installed on the starboard side due to the setting and hauling of nets over the port side.
This item is available to purchase & collect or alternatively we may be able to ship to you via specialist courier. Please contact us via email for a shipping quote.​

Stock:

In Stock

Model:

44' gaff Cutter

Dimensions:

13,420.00mm x 4,225.00mm x 0.00mm