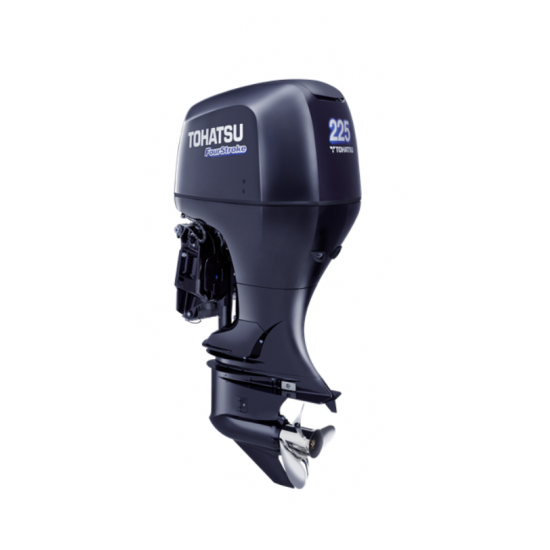 -10 %
Tohatsu 225HP Ultra Long Shaft with Remote Control Electric Start and Power Tilt
Tohatsu 4-stroke 225HP Ultra Long Shaft with Remote Control Electric Start and Power Tilt. Has a 25" Transom

High output alternator that produces 90 amp alternator with 60 charging amps
Large Displacement 3.5 Litre V6
Available in 20" & 25" shaft lengths. Standard and Counter rotation
Double sealed multi-layered paint process to help protect against corrosion
Painted interior cooling passages for extra protection against corrosion
7 Year limited warranty

High performance and easy operation:

Programmed fuel injection for optimum performance via four fuel injectors and a common high flow throttle body
Dual stage induction improves performance
* BLAST, Boosted Low Speed Torque system which controls Air / Fuel mixture and ignition timing and improves hole shot performance
* ECOmo (economy controlled motor)lean burn control system allowing combustion to operate on a leaner air / fuel mixture at cruising speed for superior fuel efficiency
*VVT&LC Variable Valve timing and lift electronic control to improve power, torque and performance
Variable air intake system results in smooth operation
Powerful 60amp alternator which delivers 48amp at trolling speed
Linear rubber engine mounts reduce vibration
Standard fresh water flush port makes life easier on wash down
Power trim and tilt
Standard Side Mount Rig Kit includes Premium Polished Stainless Steel Bezel Tachometer with built in Hourmeter along with a Trim Meter to match
Optional gauges are available
High performance and easy operation:

Fundamentals for user conveinence and relaibility:

4 Step corrosion protection as a result of double sealed multi layered paint process.
Speedometer pickup
Ask your Tohatsu Dealer about the optional Garmin GMI 20 Instrument up-grade !

Warning and protection:

Low oil pressure warning
Overheating alert
Alternator charging alert
Safety Lanyard
Over-rev limiter


*registered trademark of Honda Motor Co. Ltd.
Due to size and weight, we are unable to ship engines free of charge, freight charges apply and vary depending on engine size, please contact us for details

Due to size and weight we are unable to ship this engine free of charge, please contact us for freight cost.

Stock:

Pre-Order

Brand: Tohatsu
Model:

BFT225A XU