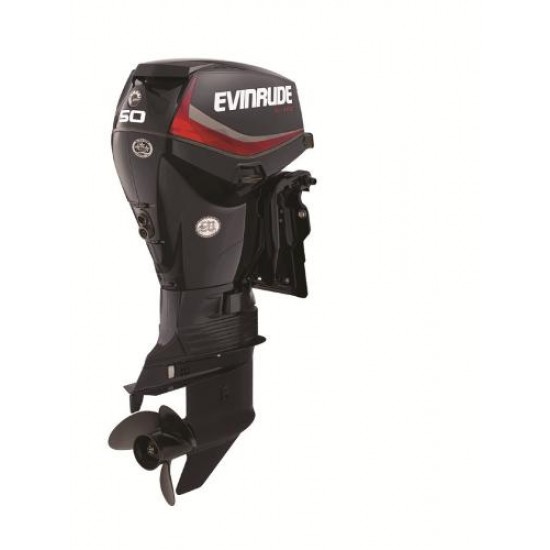 New
Evinrude E-TEC 50HP Outboard Motor
Evinrude E-TEC 50HP Outboard Motor
Two Stroke, Electric Start, Remote Control Outboard
SPECIFICATIONS
Engine Type Inline 2-Cylinder E-TEC D.I.
Bore x Stroke - in (mm) 3.62 x 2.60 (92 x 66)
Displacement - cu in (cc) 53 (864)
Gear Ratio 2.9:1
Full Throttle RPM Range 5500-6000 RPM
Starting Electric
Controls Mechanical
Fuel Induction E-TEC Direct Injection with
stratified low RPM combustion mode
Alternator Output* 81 Amps Total / 25 Net Dedicated
Trim Method Power Trim & Tilt
Trim Range -4˚ to 16˚
Tilt Range 65˚
Lubrication Multi-Point Targeted Oiling
Oil Tank Capacity - qt (L) 2 (1.9)
Recommended Oil XPS Marine XD100 / XD50
Recommended Fuel 87 Octane
Warranty 3-Year, Non-Declining
100% Global
Emissions Compliant EPA 2013 / CARB 3 STAR / European Union
Evinrude E-TEC is the best of both technologies. It provides the quiet, efficiency and cleanliness many customers associate with the 4-stroke outboards, combined with the torque, throttle response, quick acceleration and raw power associated with the 2-stroke outboard. The technology is considered 2-Stroke, Direct Injection. Evinrude E-TEC in fact, has cleaner exhaust emissions than a 4-stroke, it produces 5 to 10 times less Carbon Monoxide (CO) while idling or trolling.
Stock:

In Stock

Brand: Evinrude
Model:

Evinrude E-TEC 50HP